Please click on the images below to see the Photo Gallery for each event.
On Saturday, December 16, 2017, the American Legion Riders Post 950 hosted a Christmas Party.  They raffled off 3 $200 gift cards redeemable at any PA Sate Store and the Auxiliary raffled off 2 Christmas Stockings with lottery tickets. See pictures for the winner's names.  Thanks to everyone who came out and helped celebrate Christmas!
Merry Christmas and A Happy, Healthy New Year to everyone!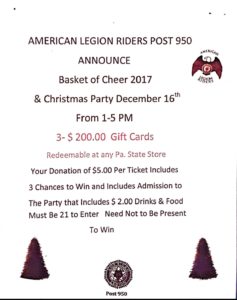 Joseph M. Stolte, Eagle Scout Service Project Dedication.  November 18, 2017.  This  is Ken Stott's, one of our Riders at Post 950, nephew.  He did a great job!  We had 10 1/2 attendees from our Riders Group.  4 bikes- cold and rainy day!
Veteran's Day Observance, Washington Crossing National Cemetery,  November 11, 2017
The first 3 pictures in this album are Thank you hearts for the Veterans.  These hearts were made by Cindy Moninghoff's nieces', Melissa Dahms, first grade class in North Carolina,   What a nice tribute by young people to our Veterans.  They did a very nice job.  Thank You!
24 attendees from Riegelsville Post 950; 6 bikes, 18 riders, 6 Senior Veterans rode in a Limo, which was donated by Chris Dietrich.  It was a cold day to be on motorcycles!  The SAL's donated $2500 to the National Cemetery.  After the service a light lunch was sponsored by the Auxiliary and the SALS' bought everyone their first drink. 
Thanks to everyone who made this a special event to honor our Veterans!
American Legion Auxiliary Halloween Raffle , Saturday, October 28, 2017, at 6:00PM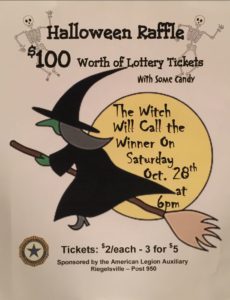 American Legion Rider Post 950 3rd Annual Meet & Greet Picnic, 09/23/2017
Special Guest from the DOG T.A.G.S. Program
Thank you to everyone who came out to make it a very special event. We had approximately 88 guests, lots of raffle prizes with lots of winners and a 50/50.  We were able to present the DOG T.A.G.S. Program a check for $2260.00.
The Auxiliary held their raffle for the POW/MIA afghan, which was crocheted and donated by Janeen Crouse. 
2018 Installation of Officers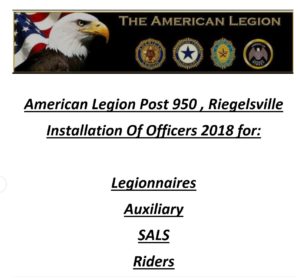 ALR Post 9, Brown & Lynch Benefit Run, July 29, 2017
Legion Riders Post 950 rode to the NAM Knights Second Annual VETFEST at the Steel Stacks in Bethlehem, PA.  Then rode to the Nazareth Post 415.  They are considering starting a Riders Chapter.  This day we had 17 bikes and 22 people.  Thanks everyone for a great day!
SAL Post 950 1st Meat Raffle, June 24, 2017.  Thanks everyone for participating and supporting the SALS.  
  Congratulations to all the winners!
Memorial Day Parade, Riegelsville, PA, May 28, 2017 
Post 950 Ride to Slatington Legion and the to Win Gap Legion for lunch, May 21st, 2017.  17 bikes and 22 people.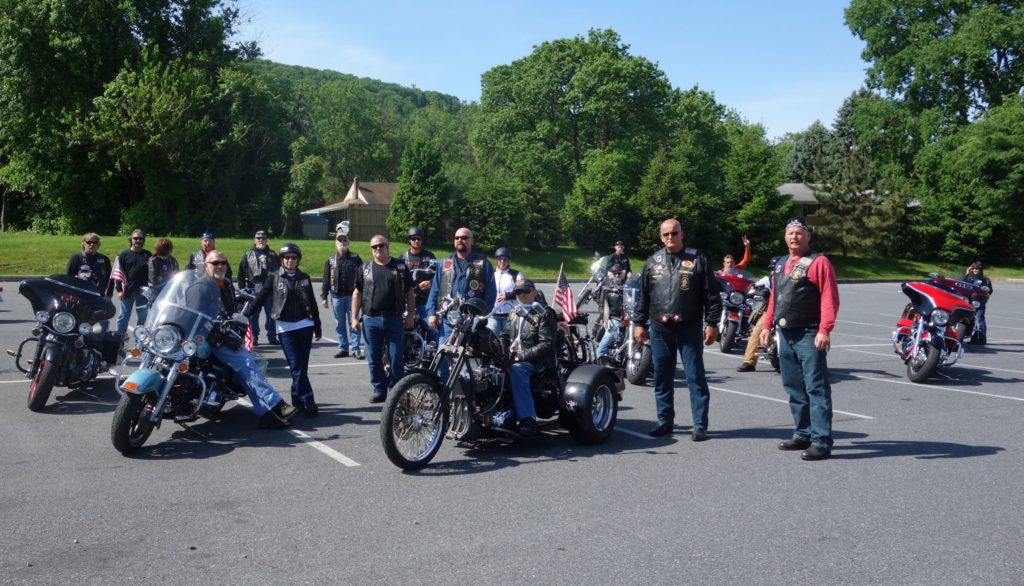 John Nordstrom was presented with a plague thanking him for all the work he does for our Post 950. 
THANK YOU JOHN!
Spring Ride April 2017.  Thanks Legion Sisters, Palm, Brown & Lynch, & Sellersville Riders  for joining us! 
We had 47 bikes and 61 people.  That is more than last year!
We visited Brown & Lynch, Post 9, Wind Gap, Post 724, – Thanks for lunch! and Hellertown, Post 397.
Spring Clean Up and grass planting, April 9 , 2017 by the Riders
Veterans Day, November 11th, 2016, the Legion Riders Post 950 rode to the Washington Crossing National Cemetery to Honor All Who Served
November 5th, 2016, SAL's Post 950 had a Long Arms Raffle benefiting the "Guardians of the National Cemetery, Washington Crossing" Christmas Fund.  1st Prize: Bob Mikovitch; 2nd Prize: Ken & Janet Stott; 3rd Prize: Joe Moll III (he donated $50 of his winnings back to the benefit- Thanks Joe!); ands 4th Prize:  Mark Windmassell.
Thanks to everyone for making this benefit a success!

October 1st, 2016. American Legion Riders 2nd Annual Meet & Greet Picnic at Riegelsville, PA P0st 950.
There were approximately 73 attendees, including fellow riders from Sellersville, Palmer, & Frenchtown.  The weather forecast was rain, but we lucked out and it was cloudy all day.  Joe Moll won the 50/50 and donated the money back to the DOG T.A.G.S. cause.  Thanks Joe!  There were approximately 60 people who voted on their favorite motorcycle. First place winner:  "Mouse", Second place was tied between Jerry Crouse & Eric Agnew.  Eric gave it to Jerry and Eric took Third place.  Thank you everyone who attended our event and also to everyone who made the event a success and fun time! 
  It was also Glenn Bronson Sr.'s 77th Birthday. 
Glenn was presented with a photo of the USS Forestall CV 59 Aircraft Carrier.  Glenn was a US Navy Petty Officer, 3rd Class Aviation Matalsmith/Hydraulics.  Proudly served:  February 1957-September 1962.  Thank You Glenn for your service  & Happy Birthday! 
Memorial Service for Benjamin G. Ziegler, 1990-2016.  Ben was a U.S. Army Specialist serving in Operation Iraq.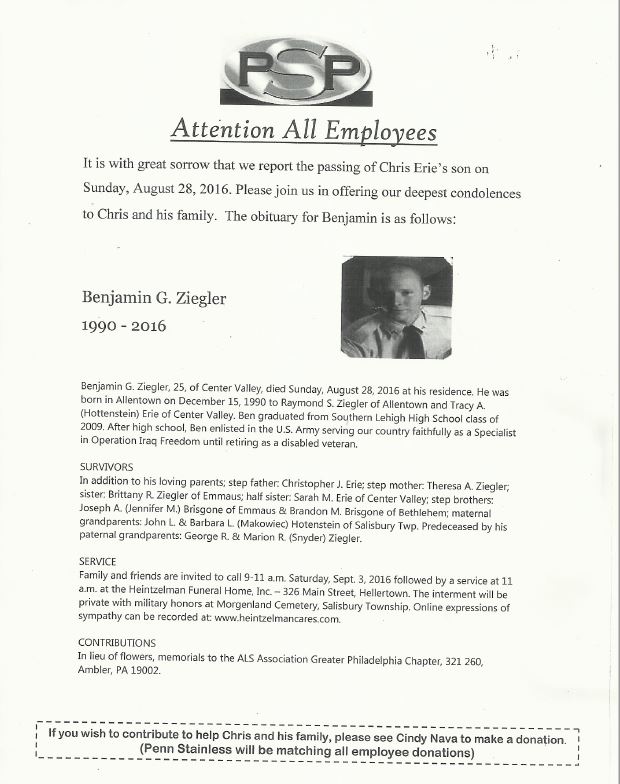 Sellersville Post 255 Veterans Benefit Run, Saturday, September 16th, 2017. 
The Poker Run started at Sellersville Post 255.  First stop was Post 950 Riegelsville, then to Hellertown Post 397, Palm Post 184, Souderton Post 234 , then back to Sellersville.  It was a great ride!
2017 Installation of Post 950 Officers, Monday, September 12, 2016
American Legion Riders Post 9 Benefit Run, August27, 2016.  Great Ride, visiting the Valor House, Lehighton, Walnutport, and Bath Posts.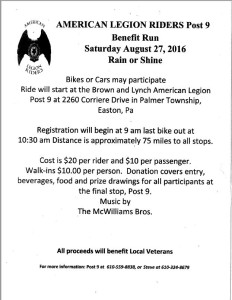 Meet & Greet Lt. Wesley D. Trumbauer, July30th, 2016.  Hosted By Hellertown Legion Post 397.  Participants along with Hellertown Post 397 were: Riegelsville Post 950, Sellersville Post 255 and Bally Fire Company.  Lt. Wesley Trumbauer was very surprised when we arrive with the Bally FD and Rescue Squads blowing their sirens. We stopped in the Palm Legion on the way back to our Post and saw the 911 Memorial.  It was a very nice event.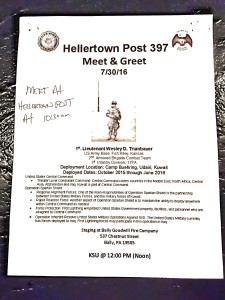 Memorial Day Parade, May 29,2016 – CLICK ON BELOW PHOTO TO SEE IMAGES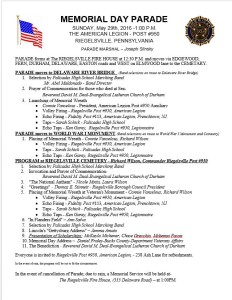 Spring Ride, April 30, 2016 – click image to view photos
We would like to thank Quakertown, Hellertown, Palmer Legions & Sons of Blackwater in making this a fun day!  There were 44 bikes and 57 people in this first ride of the year. 
St. Patty's Day Dinner, March 11, 2016 – Click on image to see photo gallery
Benefit Ride October 2015 –  Click on image to see photo gallery
American Post 950 – click on image to view photo gallery